Cristiano Ronaldo Net Worth, Age, Wife, Children, Height.
Cristiano Ronaldo is a Portuguese professional footballer playing for Italian, Juventus Club and Portugal national team. He is considered the best football player of all time breaking old records to set new ones.
| | |
| --- | --- |
| Net Worth: | 400 Million $ |
| Age: | 33 |
| Born: | February 5, 1985 |
| Country of Origin: | European Portuguese |
| Source Of Wealth: | Portuguese professional footballer( Portugal national team ) |
| Partner: | Georgina Rodríguez |
| Children: | 4 |
| Last Updated: | 2019 |
Cristiano Ronaldo Biography
Leaving mainstream school to pursue his talent during his early teenage, Ronaldo began playing away from his home believing he was better than an armature footballer.
His ability to adapt to new environments, his speed and tactics made him stand out above his age mates in the game.
His life is all about,
"Winning – that's the most important to me. It's as simple as that."
Aimed at taking new challenges, Ronaldo tests his talent by playing for different clubs where he inspires his teammates to win in every game.
He's not afraid to play among legendary footballers; such make him even better.
C ronaldo Career
After attending a three-day trial with a football club in Lisbon, Sporting Clube de Portugal in 1997, Ronaldo was signed to play for the club at £1500.
He then proceeded to Alcochete outside Lisbon where he joined Sporting CP's youth players. With his mother's approval, Ronaldo dropped out of conventional school to focus on football as a profession.
In 2001, Ronaldo played under-16, under-17 and under-18 teams, both B and first team displaying his talent and poise all in one season.
By this time, major football clubs; Barcelona, Manchester United, Parma, Juventus, Liverpool and Inter Milan watched him hoping to bid and own him.
Despite the early move by Liverpool and Barcelona to win him, it is Manchester United's manager, Alex Ferguson who got him.
During the opening of a new football stadium in Lisbon, Estádio José Alvalade in August 2003, Ferguson and his team were beaten 3-1 by Ronaldo's Sporting CP.
The team urged their manager to sign him in a deal that saw Sporting CP receive £12.24 million to let their player join United. It was the highest amount ever paid to buy off a teenage player in British Football history.
Joining United at the age of 18 made Ronaldo the club's first-ever Portuguese player. Later in 2003, he, his family and manager flew to Manchester to complete the contract signing process.
The opportunity to play for a prominent club confirmed his belief,
"I see myself as the best footballer in the world. If you don't believe you are the best, then you will never achieve all that you are capable of."
Cristiano Ronaldo Goes United
Joining his new family of players on the training ground, Ronald displayed confidence that the club had never seen. Unlike others on their first day, he wasn't intimidated by their expertise.
On 16 August 2003, Ronaldo debuted in the Premier League as United humiliated Bolton Wanderers to a 4-0. He entered the field half an hour to the end of the game, took control of the ball to give the crowd a show like never before.
Wearing the shirt meant for distinguished players on the field, number 7 from that day on gave him added inspiration.
On November 1, 2003, United scooped a 3-0 win against Hampshire-based Portsmouth club with the teen player netting his first goal for his club 11 minutes to the end of the game.
May 2004 saw Ronaldo earned his first trophy in the FA Cup Final as United sent Millwall home after a 3-0 win in a match that gave his club the 11th FA Cup victory.
A year later, Ronaldo displayed his stamina by playing for a full 120 minutes as United rivaled Arsenal in a goalless draw during the 2005 FA Cup Final.
After being booed by fans during a match between United and Benfica, a Lisbon- based club,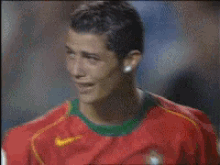 Ronaldo attracted a one-European match ban and £4,000 in fine in February 2006. He made a middle-finger gesture at the fans claiming they had no right jeered him.
Within the same year, he disagreed with a teammate who didn't like Ronaldo's grandstanding behavior during matches. He believed, "I don't have to show anything to anyone. There is nothing to prove."
Discomfort Bleeds Rewards
By June 2006, Ronaldo felt his time in Manchester United was spent and desired to leave the club despite signing a new contract to keep him there till 2010. United's fans hated him and other clubs wanted him.
Spain's Real Madrid club didn't hide their intention of buying off the young winger from United. A move United refused to support. They made it clear they weren't in the habit of selling their brightest young players.
As the year ended, Ronaldo had the last laugh following the intensive training he received from the first-team coach.
He learned to work with the team and source his own goals instead of waiting for his teammates to do the main job.
He was strong, brute and fast, making him the best man to wreak havoc on Aston Villa, a Birmingham football club and win his first Premier League Title.

On May 5, 2007, Ronaldo brought United its first Premier League title in four years as he scored his 50th goal for the club in the Manchester derby.
The club also entered FA Cup final though was beaten by Chelsea, London-based football club 1-0. That earned him a raise in his weekly earning, Player's player, Fans' Player and Young Player of the Year awards from Professional Footballers' Association.
He also bundled the Footballer of the Year award from Football Writers' Association making his words clear
"I never tried to hide the fact that my only goal is to be the best."
He also took home the Premier League Golden Boot and European Golden Shoe awards after scoring 31 league goals within the 2007-08 Premier League season.
Entering the 2008-09 Premier League season, Ronaldo scored his 100th goal and one in a match between United and the Staffordshire-based football club, Stoke City.
The 5-0 win on November 15, 2008, marked the return of the talented dribbler from a 10-week rest following ankle surgery.
At the end of 2008, Ronaldo brought United a 5-3 win against Japanese professional football club, Gamba Osaka in the FIFA Club World Cup in Japan.
He scored the opening and closing goals amidst piles of insults from the visiting fans; Ronaldo refused to give in to the ridicule.
He took home nine trophies during his time at United and helped the club take three Premier League titles and a Football League Cup. From his string of wins, he learned,
"Don't let small obstacles be in the way of being victorious. Remember you are stronger than the challenges you face."
Cristiano Ronaldo Goes Real
In a record transfer of £80 million, Ronaldo left United for Spain's Madrid-based professional football club, Real Madrid before the 2009-10 La Liga season.
the club's captain wearing the number 7 shirt, Ronaldo was offered number 9 which became CR9. He had CR9 patented with the plan of using it to produce a branded clothing store in Madrid.
His first match at Madrid was against Galicia's professional football club, Deportivo La Coruña, where his team delivered a 3-2 win.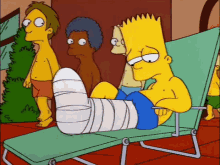 In the matches that followed, Ronaldo gave Madrid a good name until he got an ankle injury sending him off the field for seven weeks. By the end of the campaign, he had 33 goals to his name and a trophy to show for it.
Ronaldo entered 2010-11 La Liga season wearing the number 7 shirt after the departure of Madrid's club captain. The motivated winger netted four goals in one match; twice in each half to give Madrid a 6-1 win against Racing Santander on October 23, 2010.
The Portuguese superstar confirmed his words,
"It gives me the happiest feeling in the world. I love scoring. It doesn't matter if it's a simple goal from close range, a long shot or a dribble around several players; I just love to score all goals."
Despite scoring 11 goals that month, he didn't qualify for the primary annual association football award for the best men's player, FIFA Ballon d'Or in 2010.
But he ended his second season in Madrid with 53 goals in all competitions and won for the second time the European Golden Shoe.
2011-12 La Liga season saw Ronaldo raise his goal scores to 60 including the winning goal when Madrid played against a longtime rival, Barcelona delivering a 2-1 win on April 21, 2011. He made history by scoring at least one goal in every match he played against an opposing team in that season.
Thoughts Of Exit
Though Madrid's purchase of Ronaldo included a six-year deal with £11 million per year making him the highest paid player in the world, his desire to leave Madrid became clear in the 2012-13 La Liga season.
He indicated discontent in a professional issue within the club prompting him not to celebrate his 150th all-time goal since joining Madrid.
As the 2013-14 La Liga season began, Ronaldo extended his contract with Madrid to 2018 with an increase in his salary.
At the end of 2013, Ronaldo scooped the FIFA World Player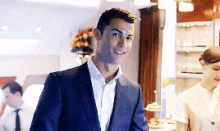 of the year award and FIFA Ballon d'Or awards from his record of 69 goals from his 59 appearances.
Ronaldo's stay at Madrid for the 2014-15 La Liga season saw him receive FIFA Ballon d'Or for the second time in a row.
Playing against Vigo-based Spanish professional football club, Celta in December 2014, Ronaldo scored all the goals in the 3-0 win for Madrid.
His third goal counted for his 23rd in 14 La Liga matches in the season and 200th in his La Liga career out of 178 games he played.
In April 2015, Ronaldo scored five goals in a match between Madrid and Granada Club giving his club a 9-1 win. At the end of the season, he had scored 48 goals in La Liga and counted 300 goals for his club.
Missing two matches due to dismissal after assaulting an opponent from Córdoba football club didn't hurt his performance in the season. Madrid scored 2-1 against Córdoba and Ronaldo apologized for the act on Twitter after the match.
Ronaldo Breaking Records
September 30, 2015, saw Ronaldo give his 500th goal in his professional career bringing Madrid to a 2-0 win against Sweden's Malmo FF.
From the 308 matches he played for Madrid, he scored 322 goals, 118 for his former club, Manchester United, 55 for Portugal and 5 for Sporting.
He broke his club's former goals record with half the number of matches played to become the club's all-time top scorer.
Despite being fond of netting goals, Ronaldo didn't celebrate his free-kick that saw Madrid score 2-1 against his former club, Sporting on September 15, 2016, saying they latter made him a champion.
But he was quick to warn Madrid about their comebacks and possible losses,
"We can't be as soft as we were because teams will walk all over us."
For the fourth time, Ronaldo took home the Ballon d'Or award in December 2016 and inaugural Best FIFA Men's Player.
The Madridista striker lifted the Championship League and UEFA Super Cup with his club and went on to scoop the Euro 2016 with Portugal.
Set to break records in 2017, Ronaldo gave a winning penalty-kick to give Madrid a 3-2 win against Villareal setting a new record of 57 penalties in La Liga on February 27.
Netting two goals against Bayern Munich on April 12 during the 2016-2017 UEFA Champions League brought his scores to 100. He was the first to net so many goals in UEFA club competition.
In December 2017, Ronaldo scooped the Ballon d'Or award for the second year in a row to beat his close competitor, Barcelona's Lionel Messi. Looking back in history, he had won the award 5 times; 2008, 2013, 2014 and 2016 each time beating the same opponent.
Came the Champions League quarter-final, Ronaldo earned a standing ovation as he scored his second goal for Madrid in the 3-0 win against an Italian football club, Juventus on April 3, 2018.
The 33-year old Portuguese sent his manager and fans into a wild applause as he spun in the air to net the goal with an unnatural bicycle kick. Unlike in earlier cases, the opponent's fans waited for the match to end to have a chance to congratulate him.
On April 11, Ronaldo gave Madrid the much-needed goal to enable the club to enter Champions League semi-finals in a game where Juventus scored a 3-1 win.
Though Madrid lost the game, Ronaldo's goal marked the tenth against the Italian team, a record of its kind in the Champions League against one club.
The following month saw Ronaldo win his fifth Champions League title as Madrid gave Liverpool a 3-1 defeat.
This gave his club a clear scoop of Champion League feat for the third time in a row, the first team to make it happen.
As if bidding goodbye to his fans in Real Madrid, Ronaldo referred to his experience at the club in past tense during a television interview after the game.
He said,
"Now we must enjoy this moment. The future of one player is not important. We have made history."
He indicated that his stay in Real Madrid 'had been very nice.'
The New Bianco Nero
Confirming the speculation, the Portuguese striker inked a four-year contract with Juventus in a deal that cost the club over £90 million payable in two years on July 10, 2018.
After asking and not getting the pay rise several time from his former club, Ronaldo decided to end his relationship. He welcomed the challenge of playing amongst the Italian giants believing,
"To be the best you need the best."
For his initiation, the team had the new bianconero stand on a chair and sing; he proved not to have any singing skills in him. His debut at Juventus was a 3-2 away match against a fellow Italian club, AC Chievo on August 18, 2018.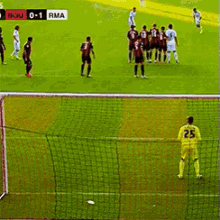 Playing in the Series A match in CR7, Juventus started him as a striker, allowed his free kicks, but he ended up scoreless.
In a match between his new club and Sassuolo football club on September 16, 2018, Ronaldo netted his first and then the second goal to end the day with a 2-1 win.
Ronaldo's Champions League debut had him red-carded after he appeared to rake Valencia's defender's hair in the 29th minute.
This marked his first ban in 154 Champion League appearances. Despite having to play one-man short, Juventus had a 2-0 win against Valencia.
Following the ban, Ronaldo missed the 3-0 match between Juventus and Switzerland's BSC Young Boys Bern on October 2, 2018. It was expected he would make it face his former club, Manchester United in a match scheduled for October 23.
With the understanding that Series A terms are more difficult than La Liga, Ronaldo's physical fitness may be put into more strain. He takes the challenge with the thought,
"Dedication, hard work all the time and belief."
Cristiano Ronaldo Philanthropy
Though surrounded by many controversies, Ronaldo was named the most charitable sportsperson in 2015.
After the April 2015 earthquake in Nepal left over 9000 dead and 22, 000 injured, Ronaldo donated £5 million to help in the country's aid efforts.
Following Real Madrid's victory in the 2015-16 UEFA Champions League, Ronaldo donated his entire bonus of £529,000 to good causes.
His history of selling his trophies and donating the proceeds to charitable organizations goes back to 2011 when he sold his European Golden Boot for £1.2 million. He donated the funds toward building schools in war-struck Gaza.
Ronaldo donates blood on a regular basis hence keeps off activities that would infiltrate his blood like having tattoos. He also donates bone marrow to a friend's son and encourages people to assist others in such areas.
As he continues to help various individuals as they come into his life.
He stands as an ambassador for charities like Save the Children, Unicef, and World Vision.
Cristiano Ronaldo Net Worth
Since joining Juventus in July 2018, Ronaldo's annual net salary stood at about £26 million. He also enjoys lucrative endorsements including Nike's over £760 million lifetime contract.
Other participants include Herbalife, EA Sports, and American Tourister to bring his annual endorsements earnings to about £36 million.
Being the most famous athlete in the world, Ronaldo earns extra income from a line of CR7 branded products which he has patented. A few among them include shoes, fragrances, jeans, underwear, and models a children's line with his son.
As of July 2018, Forbes quoted Ronaldo's net worth at £82 million, and he came third after the boxer, Floyd Mayweather and fellow footballer, Lionel Messi.
His desire,
"I want to be remembered as part of the group of the greatest players ever,"
pays off even where money is concerned.
Cristiano Ronaldo Early Life
Cristiano Ronaldo dos Santos Aveiro was born on February 5, 1985, in Madeira Island, Portugal.
He is the fourth and last child of Maria Dolores dos Santos, a former cook, and cleaner. His father was Jose' Dinis Aveiro, an equipment manager at a boy's club.
Ronaldo was named after his father's favorite actor at the time, Ronald Regan, who later became the 40th president of USA.
He was born eight years after his sister at a time when none of his parents anticipated his arrival and was referred to as unwanted.

Though his parents weren't wealthy, his father introduced him to football and was proud of his Ronaldo's talent in it.
At 7 years of age, Ronaldo played for Clube de Futebal Andorinha, a football club on the Madeira Island in the amateur team.
He moved to Nacional da Madeira where he played for two years. He devoted himself to attaining skills to better his talent believing,
"Talent without working hard is nothing."
At 14, Ronaldo had confidence in his ability to play like a semi-professional. He was encouraged to by his parents leave mainstream school to enable him focus on growing the talent.
Cristiano Ronaldo Wife, Personal Life
In 2005, while playing for Manchester United, Ronaldo's father succumbed to an alcohol-related liver disease. He later praised Fergusson, then club's manager, for his support at the difficult moment noting he acted as a father figure to him all along.
Ronaldo has four children the first being Cristiano Ronaldo Jr. whose mother's identity remain unknown. On several occasions, Ronaldo clarified he wouldn't tell who she was until it he saw it necessary to reveal to his son.
Cristiano Ronaldo Childrens
The football superstar has full custody of his son who lives with his grandmother, Ronaldo's girlfriend Georgina Rodriguez who is also the mother of his fourth child, Alana Martina born in November 2017.
On June 8, 2017, Ronaldo became the father of twins Eva and Mateo who were born by a surrogate mother in America.
Ronaldo adores his mother and refuses to keep any friend who doesn't respect her.
Cristiano Ronaldo Height
Height: 1.87 m
Reference
Career: http://news.bbc.co.uk/sport2/hi/football/eng_prem/3207091.stm,
https://en.wikipedia.org/wiki/Cristiano_Ronaldo
Net worth: https://www.forbes.com/profile/cristiano-ronaldo/#633843ae565d