Justin Bieber Wiki (Age, Net worth Songs, Albums)
Justin Bieber is a Canadian singer and songwriter who is known for his strong social media following which has helped him make great sales for his music records.
| | |
| --- | --- |
| Net Worth: | 265 million $ |
| Age: | 24 |
| Born: | March 1, 1994 |
| Country of Origin: | London, Canada |
| Source Of Wealth: | Canadian singer-songwriter |
| Spouse: | Hailey Rhode Baldwin (m. 2018) |
| Children: | None |
| Last Updated: | 2018 |
Justin Bieber Short Bio
Since he began using social media as a way of sharing his music, Bieber wasn't keen to become popular, to him, posting his videos online was child's play.
But with the discovery of his talent by a talent manager changed his story making him the most adored child singer and later one of the world's best-selling music artists.
Through social media, Bieber has grown his career from a simple video and a humble fan base to millions of fans who can't wait to unleash their hate and love at him in equal proportions. But he insists, "I'm here to bless, not to impress," and does what he knows best, sing.
Bieber is a great example of an artist who has enjoyed his high and low times making every possible mistake, learning and growing from it.
Justin Bieber Career
Bieber's career in music began when he was only two years old; his love for percussion got him banging on everything he found on his way. His vocals chords gave into music when he turned three beckoning his mother to get him a drum kit, guitar, and keyboard.
He taught himself to play each one of them; his remark, "I guess you can say I've been blessed with talent."
In 2007, Bieber participated in a music competition in his hometown in Canada and came second-place. He sang 'So Sick' by Ne-Yo, a celebrated American singer, and songwriter.
Wanting to share his performance with family and friends who couldn't attend the event, Bieber's mother created a YouTube channel for him where she uploaded it.
The video that was meant for a few went viral attracting a few thousand views in a short while. Though he wasn't keen on fame, he continued performing other R&B covers by famous artists like Chris Brown and Usher in front of his webcam and uploaded them on YouTube.
While searching for another artist's video on YouTube, an American talent manager, Scott 'Scooter' Braun came across Bieber's 'So Sick' video and fell in love with his talent.
Braun began tracking down Bieber; from contacting his school to stalking his mother and speaking to his great aunt. He began convincing Bieber's mother to let him travel to Atlanta, the USA for a no-strings-attached trial.
The fact that Braun had a Judaism background and Bieber's family was Christian troubled his mother. But after consulting with church elders, she gave in and flew with her 13-year-old son to America to meet Braun. It was their first time on a plane.
When Braun introduced Bieber to Usher Raymond IV, an American Grammy Award-winning musician, Bieber asked to sing 'U Got It Bad', one of Usher's hit single.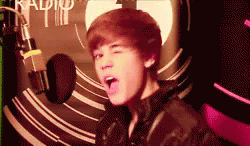 Usher was thrilled at his performance. He formed a company with Braun, Raymond Braun Media Group and collaborated with Antonio 'L. A Reid, a music producer from The Island Def Jam Music Group to sign Bieber his first record deal.
Within his first week of visiting America, Bieber was singing with Usher.
Though Braun had spoken to other musicians about Bieber seeking to have them mentor him, a good number turned down the offer saying he was too young and lacked TV platform backing.
Justin Timberlake was interested, but took a little longer to sign the deal; Usher did so a day before the last meeting between Braun and Timberlake.
Braun became Bieber's manager and Usher his mentor, completing the power team to create Bieber's incredible music career. It was time for him and his mother to move to Atlanta.
In Touch With Music
July 2009 saw Bieber release his first single, 'One Time' to the radio while still recording his first album ever.
The music industry in Canada gave the song number 12 during the first week and number 17 in American music charts, Billboard Hot 100.
The rest of the world caught the wave and continued listening.
The second single in the album, 'One Less Lonely Girl' together with two promotion singles were released online through the iTunes Stores.
It earned the 40th position on Billboard 100 and the right buzz for his first album, My World, released at the end of 2009.
To promote the album, he performed several live shows in America catapulting its performance in the USA, Canada, and United Kingdom.
The entertainment industry welcomed in what seemed like 'overnight fame,' and Bieber appeared as a guest star in one episode of an American Teen Sitcom, True Jackson that was aired on Nickelodeon.
His fame spread all the way to the White House where he was invited by to perform for President Obama and the First Lady during Christmas in Washington on December 20, 2009.
He joined famous artists like Neil Diamond, Sugarland, Rob Thomas, Usher and Mary J. Blige. By December 2009, he was lined up to perform with other well-known artists in various events in America.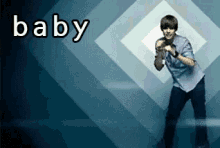 In preparation to debut his second album, My World 2.0, he released, 'Baby' featuring an American rapper and actor, Ludacris.
The song topped the charts around the world; it took 5th position in America, 3rd in Canada and top 10 in other countries. When the album was released, it took the first position in US Billboard 200, in Canada, New Zealand, and Australia.
That made Bieber the youngest solo male to top the chart after Stevie Wonder's record in 1963.
Turning 16 came with a different voice package for Bieber; he could no longer hit the high notes he used to when he released his first two albums.
For his live performances, he had to lower the key to deliver a close flavor to what his fans knew.
"It cracks. Like every teenage boy, I'm dealing with it, and I have the best vocal coach in the world."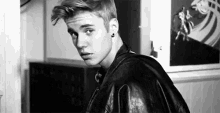 But that didn't stop his fans from flooding during his live concerts; it was more than the notes; his looks also raked in part of the crowd.
This led to the cancellation of his tour in Australia in April 2010 when ten girls fainted amid mass scenes of excitement.
As was his trend, Bieber appeared live in several programs to promote the album like Kids' Choice Awards and Late Show with David Letterman.
In June 2010, he went on My World Tour beginning in Connecticut to promote his first and second albums further. This was his first official headlining tour.
Bieber gained popularity with his music video 'Baby' becoming the most viewed and negatively critiqued video. He was also the most searched celebrity online.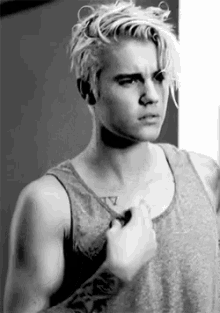 By September 2010, a Twitter employee told the media that Bieber's over 5 million followers accounted for 3 percent of traffic on the social media site.
Racks of servers were dedicated to him.
Bieber became a guest star in a crime drama aired by CBS, Crime Scene Investigation where he took the role of a troubled teen.
The TV series scenes where he featured aired on September 23, 2010 and February 17, 2011, when his character was killed by one of the cops.
Away from the drama, Bieber released his acoustic album, My Worlds Acoustic on November 2010 in America. To alert his fans, he tweeted about it in October calling upon them to spread the word.
His schedule was getting jammed with the preparation of his third album and a 3-D concert film, Never Say Never.
The film featured Bieber's ten days countdown to his greatest performance in August 2010 in Madison Square Garden.
The beginning of 2011 came with good tidings for Bieber as his film, released on February 11 grossed $30.3 million over the weekend.
Around the world, the film grossed over $98 million. Forbes ranked Bieber second on the list of Best-Paid-Celebrities under 30 in June 2011 after having raked $53 million in 12 months.
Growing Up In Fame
With the fame of his film fading away, Bieber began recording Believe, his third studio album starting with a single called 'Boyfriend' set to be released in March 2012.
The song was available only through Apple's iTunes store limiting the sales to 521,000 digital units and debuting second on US Billboard Hot 100 chart.
Back home, the Believe album sold 57,000 copies in its first week as it marked Bieber's graduation from teen pop to dance-pop and R&B genre.
His voice had grown more mature and intense. To promote the album, Bieber began his Believe Tour in September 2012 in Arizona and later announced the release of Believe Acoustic the following year. True to his word, the album was released late January 2013.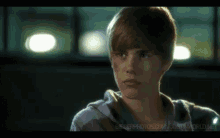 Bieber started the year on a high note but was hit by a series of difficulties throughout the first half of the year. His performance as the host of Saturday Night Live show in February 2013 ended up all about him hence attracting negative reviews.
March saw Bieber experiencing breathing problems during his performance leading to his fainting backstage and later cancellation of his Portugal concert following low ticket sales.
He turned his story in October 2013 after announcing his desire to release a new song every Monday for ten weeks ahead of his Justin Bieber's Believe film release on December.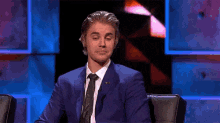 Between October 7 and December 9 that year, Bieber and his team threw themselves into extreme action to make true the promise.
The songs were released on time and five others added to the list in time for purchase via iTunes between late December and early January 2014.
In April 2014, Bieber was transferred from The Island Def Jam Music Group to Def Jam Recordings following the splitting of IDJMG into three flagship label groups.
His music life continued as he released a remix of an old song, 'Where Are You Now' produced by two American artists under the collaborative effort of Jack U in February 2015.
In preparation for his fourth studio album, Purpose, Bieber released 'What Do You Mean', the first single in August 2015.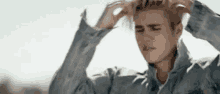 It came first on Billboard Hot 100 and earned him a Guinness World Record as the youngest male artist to debut at number one on the chart.
Bieber's Purpose album was released in November 2015 coming first on Billboard 200. With each of his songs scoring a top spot upon debuting, Beliebers were treated to the release of the vinyl format of his first 4 albums on February 2016.
Purpose album saw over 4 million copies sold around the world leading to his Purpose Tour that began on March 9, 2016, in Washington.
Bieber's energies were high as he continued to release songs that debuted top of the charts. He also appeared in a documentary Bodyguards: Secret Lives From The Watchtower which featured the work of those who protect public figures.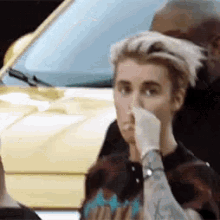 To Bieber, his bodyguards provided him with a safe place in the presence of unruly crowds. He was often overwhelmed by screams of his fans, some of who tore his shirt and hoodie to get his attention.
Due to his strong travel program, Bieber canceled all Purpose Tour dates planned after July 24, 2017, citing extreme exhaustion.
He had been traveling for 18 months without rest and felt that further traveling would be an injustice to himself and his fans.
His life also took a different turn as he spent more time with his church crew following his belief,
"When life pushes you down on your knees you're in the perfect position to pray."
He addressed his fans via a video saying,
"Everything's fine. I've been on tour for two years. I love you guys. I think you guys are awesome. Sorry for anybody who feels disappointed or betrayed, it's not my heart or anything. Have a blessed day,"
Earlier in July, China banned Bieber from performing in the country citing bad behaviors. The authorities went on to say they found it inappropriate to entertain performers whose behavior was uncouth.
In April 2017, he was featured in a remix 'Despacito' a Spanish song by two Puerto Rican singers; Luis Fonsi and Daddy Yankee. The song became a hit in America and other countries around the world.
Though he didn't attend 2018 Grammy Awards show where he was supposed to overshadow the two Puerto Rican singers in Despacito, he continued to work on his album. Bieber also co-featured in DJ Khaled's No Brainer in July 2018 together with two rappers, Chance, and Quavo.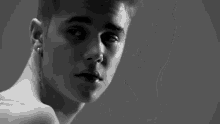 Having garnered so much fame, Bieber has to himself some endorsements that earn him cash on the side. Besides the Adidas endorsement deal, in 2015 he was announced as the new Calvin Klein underwear model.
He had managed to transform his body through a five days a week exercise program that led to his enviable physique. He also endorsed Beats By Dre's premium headphones.
Bieber has perfume endorsements deals from Elizabeth Arden fragrance. The earliest perfume was released in 2011 and the latest, 2014. Their creation is under the supervision of a Lebanese nose, Honoraine Blanc. He also has some merchandise sold online for his music tours.
Justin Bieber Philanthropy
For a musician who has attracted as much wrath as love from his fans, it is surprising to hear he is a giver. A number of people inspire his giving, Michael Jackson is one of them. He says,
"If I can do just one-tenth of the good Michael Jackson did for others, I can make a difference in this world."
Bieber is known to support Adam Braun's Pencils of Promise foundation, Braun is a young brother of Bieber's manager.
On his 17th birthday, Bieber raised through his fan base and donated $47,148 to Charity Water Organization to help provide clean water to 2,357 people in the world. The following year, he called upon his fans to create their fundraisers and donate the proceeds during their birthdays.
In 2014, Bieber donated $50,000 to Our Kids, a youth charity as part of his plea to a drunken driving case in Miami.
He had been accused of driving under the influence and resisting arrest. In 2017, he donated all the proceeds from the sales of his blue 2011 Ferrari to some charities; the car had been sold at $434,500.
Justin Bieber Net Worth
As of March 2018, Bieber's net worth was quoted at $265 million sourced from music sales, merchandise and endorsements. From his Twitter following of over 100 million, he has managed to sell over 140 million records raking in $44.7 million.
Here are his Top Rules:
Justin Bieber Early Life
Justin Drew Bieber was born on March 1, 1994, in Ontario, Canada as the only child of Patricia 'Pattie' Mallette, a Canadian author and film producer and Jeremy Jack Bieber.
At the time of his birth, his mother was underage and never married his father.
Instead, he was brought up by his mother with the help of his maternal grandparents. His mother took some low paying office jobs to raise him by keeping in touch with Bieber's father.
Bieber attended Jeanne Sauve Catholic School in Stanford for his primary level. Due to his call to pursue his career from the age of 13, he didn't complete his high school education until July 2012.
He graduated from St. Michael Catholic Secondary School with a 4.0 GPA despite being a distance learner and on tour for the better part of the time he should have been studying.
Personal Life (Justin Bieber and Selena)
After moving to America to pursue his career, his mother promised him that she wouldn't date until he was 18. By keeping her promise, she was available to him whenever he needed her; that counted for a lot of times.
At the age of 16, he dated an American singer and actress Selena Gomez, who is two years his senior. They lived together when he was 18, but their relationship ended in 2014.
The link wasn't a smooth sail as they broke up in November 2012 then reconciled a few weeks down the year. In 2013 and 2014, they came back together several times and split again.
Having dated before in 2016, Bieber asked Hailey Baldwin, an American model and TV personality for her hand in marriage on July 7, 2018.
Though he hadn't planned to propose at the time, he commented on social media that his engagement on the seventh day of the seventh month was God's timing and perfect.
"You can't always get what you want. But, if you're lucky, you get what you need."
In August 2018, Bieber bought a 4-bedroom mansion in Ontario, Canada at $5 million ahead of his wedding which he hadn't announced the date.
Reference
Career: https://www.reuters.com/article/us-bieber/time-is-right-for-teen-singer-justin-bieber-idUSTRE56I2BM20090719, https://edition.cnn.com/2017/07/24/entertainment/justin-bieber-tour-canceled/index.html
Biography: https://en.wikipedia.org/wiki/Justin_Bieber, http://www.mtv.com/news/2953669/justin-bieber-fans-bodyguard-documentary/
Endorsements: https://www.etonline.com/fashion/155940_justin_bieber_reveals_his_calvin_klein_workout