Best Things to Know About Kim Kardashian! (Kids, Age, Perfume and Networth)
| | |
| --- | --- |
| Net Worth: | 350 Million $ |
| Age: | 38 Years |
| Born: | October 21, 1980 |
| Country of Origin: | United States Of America |
| Source Of Wealth: | American reality television personality, entrepreneur and socialite |
| Spouse: | Spouse: Kanye West (m. 2014), Kris Humphries (m. 2011–2013), Damon Thomas (m. 2000–2004) |
| Children: | 3 |
| Last Updated: | 2018 |
Named as the tabloid headliner and undisputed megastar of the reigning royal family of the reality TV, Kim Kardashian is an American TV personality, socialite, model, and entrepreneur.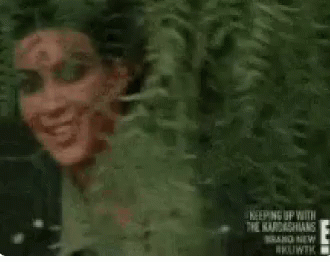 kim Kardashian Short Biography
From a woman whose image was tainted with the negative fame from a leaked sex tape, Kardashian has turned her name to one whose advice on business cannot be ignored.
From every breakup, loss of valuables and online backlash, she has gained tons of wisdom to propel her to stardom and live life on her terms.
With her career rising at the conception of social media, Kardashian has embraced and used it to her advantage in announcing her every move, thought and passion over the network.
While being accused of being 'famous for being famous,' she continues to build The Kim Kardashian Brand that gives a voice to young girls around the world.
While the world once claims she lacks business acumen, Kardashian stands as the most watched woman in reality TV and one who commands millions of dollars' every year through her businesses.

With a following of over 200 million eager fans on social media, it shouldn't surprise anyone that her products attract extraordinary sales. She uses the world's doubt of her abilities as her motivation saying,
"I do feel like success is the best revenge."
Career (The story behind Kim Kardashian's fame)
Kardashian came into the limelight through her close association with a television personality, socialite and childhood friend, Paris Hilton.
She was a helper and a friend who stood with Hilton in time of trouble. The two spent the better part of 2006 seeking fame in media, "We'd go anywhere and everywhere just to be seen.
We knew exactly where to go, where to be seen, how to have something written about you.
All you had to do is go to this restaurant, or this party, talk about whatever you want to talk about, and it would be in the paper the next day.
Together with her sisters, she also operated a clothing and accessories boutique, Dash in Calabasas, California.
The boutique relocated to West Hollywood, ran at a loss for several years before creating branches in Miami Beach, Florida, and SoHo district of Manhattan.
Eleven years after the first Dash was opened, the clothing empire closed.
kim Kardashian sex tape
In 2007, Kardashian's fame shot up after a sex tape she and a former boyfriend, Ray J made in 2003 was leaked.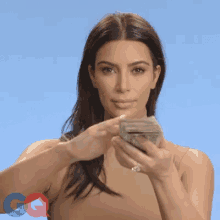 An American pornographic film production company, Vivid Entertainment began distributing it believing they had all the necessary rights. Though some of her fans accused her of using the tape to gain publicity, she sued the company.
She dropped the case under the agreement that the Vivid would stop selling the videotape by May 2007, and she would receive about $5 million in compensation.
In October 2007, under the management of her mother, Kardashian, and her family started to appear in a reality TV series named 'Keeping Up With The Kardashians' aired on cable and satellite TV channel, E! It focused on both their happy times and the minor squabbles of their daily lives.
The series garnered excellent publicity opening up various offers like an opportunity for her to appear in Playboy magazine in 2009.
Between 2008 and 2009, Kardashian scored her first big screen role as a character named Lisa in a film, Disaster movie. She also appeared in an episode of How I Met Your Mother sitcom and had a part in a few episodes of a Television series named Beyond The Break. She participated in a dancing series, Dancing With The Stars, where she was the third competitor to be eliminated. Unknown to her fans, she revealed,
"I'm a little shyer and not comfortable dancing in front of a large crowd."
Kim Kardashian Workout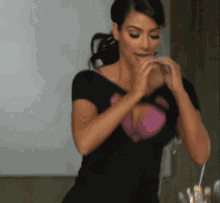 In April 2009, she began sharing her famous exercise routines with the world through workout DVD series via Kimsaprincess Production, her TV production company.
She released three efficacious workout videos titled Fit In Your Jeans By Friday.
In October 2009, Kardashian has named the face of Kiss Away Poverty campaign launched by Fusion Beauty and Seven Bar Foundation.
The campaign aimed to empower women by providing them with loans to finance their businesses. From every sale of Fusion Beauty's LipFusion lipgloss, $1 went to the foundation to fund the noble cause.
Kim Kardashian Perfume
In November, she released 'Kim Kardashian' fragrance composed of a variety of aromas like tuberose, gardenia, jasmine and sandalwood with Claude Dir as the nose.
Since then, she produced six other fragrances including Fleur Fatale for women released in September 2014.
She also made several guest appearances in several activities like the annual professional wrestling, WrestleMania XXIV, America's Next Top Model reality TV series and CSI: NY, an American police procedural TV series.
In 2010, she participated in other reality shows like The Spin Crowd where she was a producer and The Apprentice besides that owned by her family.
With the growing fame, Kardashian received many endorsement deals with Carl's Jr fast food restaurant, Cookie Diet, Coca-Cola, waist trainers and teeth whiteners. Though some deals didn't fair well and ended up with court cases, International Business Times estimated her endorsement earnings at $6 million by the end of 2010; the highest score among Hollywood-based reality stars.
Kardashian's original projects continued to grow with the release of a casual free-to-play role-playing mobile phone game, Kim Kardashian: Hollywood in June 2014.
Though playing remained free, in-game items were provided at a charge earning her $1.6 million in less than a week of release. The game scooped 5th position among other winning games in Apple's App Store.
In November 2014, the socialite turned Techpreneur appeared on the cover of New York's popular culture and fashion magazine, Paper, while partially undressed. The explicit image catapulted the magazine's website views from 25,000 on an average day to 15.9 million in one day.
It also attracted 833,000 likes on Instagram while the associated hashtag, #BreakTheInternet got over 360,000 mentions on Twitter. Vogue Spain followed suit by placing her as the cover model in August 2015.
Kardashian continued exploring her creative, entrepreneurial skills by releasing Selfish, a 325-page collection of selfies compiled in a book in May 2015 followed by Kimoji, emoji for iOS
devices in December.
From Pain To Gain (Robbed at Gunpoint)
While her life looked glamorous, Kardashian went through a traumatic episode when she was robbed of jewelry worth of over $10 million while attending Paris Fashion Week on October 2, 2016.
It was reported that 5 assailants wearing fake police crests on their jackets gained access into her residence earlier that morning, gagged and handcuffed her at gunpoint before looting.
A week earlier, Kardashian had been saved by her security when a serial celebrity accoster tried to harm her on her way to a restaurant. This prompted for an increase in her protection.
Following the robbery, her pre-scheduled makeup demonstration in Dubai was postponed, and the filming of her reality TV show halted until October 26.
Kardashian also took a 3-month break from social media, which meant foregoing a possible $300,000 per post opportunity for sponsored content on Instagram. She needed time to recuperate.
Despite all the mental harm and financial loss, Kardashian still pocketed $51 million paychecks in 2016 earning her the cover spot of Forbes magazine; thanks to her money-minting mobile game.
Kim Kardashian Makeup
In June 2017, Kardashian launched her line of contour kits, KKW Beauty instead of having licensing deals for other people's cosmetics as she had done before.Taking time off availed her opportunity to gather experience and build her startup
"After 10 years of getting my makeup done every single day, I've really put that knowledge into action and production."
She later expanded KKW Beauty with other makeup products like powder sets, lipsticks, concealer and eye-shadow raking more money for her than the mobile game.
Kardashian invested most of her time creating tutorials for her audience on how to use her makeup and sharing the same on social media.
Though it cost her time responding to her audience's feedback and advertising dollars to gain reach, her sales kept growing, giving birth to KKW Fragrance launched in November 2017.
As of mid-2018, Kardashian's focus revolved around her two mega businesses; KKW Beauty and KKW Fragrance. While she had a role in an all-female robbery film Ocean's 8, which was released in June 2018 and has a baby clothing line owned by her and her husband, her desire to grow the two businesses remains critical.
Building her businesses on the foundation of the attention she commands online, Kardashian's primary work is to prove that her brand is well worth its fame.
"I think, obviously at the beginning you can get a little bit of attention, and then it's kind of what surrounds you and who you are that I think can carry it on — or fizzle it out."
Kim Kardashian's Philanthropy
Kardashian donates part of her wealth to various charities and individuals in need as driven by her belief
"Giving comes from the heart."
In 2013, she auctioned her wardrobe on eBay, an e-commerce corporation and donated a tenth of the proceeds to International Medical Corps' relief fund to aid Typhoon disaster victims in the Philippines.
While she meant well, some fans felt she could have given more bearing in mind she didn't lack.
In the same year, she conducted a yard sale with her family and sent the proceeds to 'No Kid Hungry' and Greater Los Angeles Fisher House Foundation'.
In 2017, Kardashian availed her lawyers to assist individuals who had lost hope in their legal battles like Cyntoia Brown, a teen who was sentenced to life imprisonment after killing her abuser.
Brown was a victim of sex trafficking who in fighting back a 43-year-old child predator shot and killed him. Kardashian also engaged her lawyers to assist Alice Johnson, a 67-year-old grandmother who was serving life imprisonment without parole for participating in illegal drugs handling.
Together with her family, she donated $500,000 to Red Cross and Salvation Army to help people affected by Hurricane Harvey in Houston in 2017.
Though her giving may not match other self-made millionaires around the world, Kardashian is keen to associate with several charities in America.
Kim's Top Rules:
Kim Kardashian Kids And Husband
Unknown to many, in 2000, Kardashian eloped with Damon Thomas, a music producer who is famed for working with artists like Lionel Richie, R. Kelly, and Chris Brown. The marriage ended in 2004 with Kardashian claiming that Thomas was an abusive spouse, a claim he denied.
With the first marriage forgotten, Kardashian met Kris Humphries, an American professional basketballer in October 2010; he engaged her on May 18, 2011, and they got married on August 20, 2011. Despite the lavish wedding ceremony held in Montecito, California, Kardashian filed for divorce 72 days after saying 'I do' to Humphries citing irreconcilable differences.
This drew yet another inevitable backlash from her fans citing she had used her marriage to Humphries to gain publicity. Through social media, Humphries said he would do anything to make the marriage work, but his plea bore no fruit.
Humphries didn't attend the brief hearing but was represented by his lawyers as the court granted a dissolution of their marriage in April 2013; though a few months pregnant, Kardashian was present.
She had been dating her longtime friend, Kanye West, a best-selling artist and rapper since April 2012 while still legally married to Humphries. On June 3, 2013, Kardashian and Humphries divorce was finalized.
On her 33rd birthday, West proposed to Kardashian with a 15-carat engagement ring in front of a 50-piece orchestra in San Francisco.
Together with friends and family, they jetted to Italy, and the two recited self-penned vows on May 24, 2014, at Fort di Belvedere, Florence.
Kardashian and West have three children; two girls, North and Chicago, and a boy, Saint. While North and Saint were born by Kardashian, Chicago was born to them by a surrogate mother in an effort to grow her family bearing in mind that she came from a large family. She says,
"Having lots of siblings is like having built-in best friends."
Kim Kardashian Age
Kimberly Noel Kardashian was born on October 21, 1980, in Los Angeles, the USA to Kris Houghton, an entertainment manager and Robert Kardashian, an Armenian-American attorney and businessman.
Kim Kardashian Siblings
She has two sisters, a brother, three stepbrothers, a stepsister and two half-sisters.
Kardashian went to an independent, all-girls Catholic school, Marymount High school in Los Angeles and graduated in 1998
. Like her father, she had interest in pursuing law and criminal justice, something she thought of as a retirement hobby. She said,
"If things slow down and I had time, I want to go to law school — just something I can do in my older age."
She also considered becoming a teacher.
Kim Kardashian Net Worth (Why She Is Worth $350 Million)
As of July 2018, Kardashian's net worth stood at $350 million with her cosmetic line KKW Beauty named as the leading source of her wealth despite being over a year old.
Borrowing fame from her reality show, 'Keeping up with the Kardashians,' she earned a huge social media following, enabling her to sell over 300,000 units of her contour kit in 2 hours after the product's hosting on her website.
Her mobile app game, Kim Kardashian: Hollywood game came second in the list among other sources of income for the socialite.
Since 2010, she has earned from several endorsement deals in retail and fashion industries. In 2016, CBC Marketplace revealed that she earned up to $300,000 for each post she made on social media for retail products like Coca-Cola.
Reference
Net worth: https://www.forbes.com/sites/natalierobehmed/2018/07/11/why-kim-kardashian-west-is-worth-350-million/#4287b7314f7b, https://people.com/tv/kardashian-jenner-net-worth/#kim-kardashian-west-350m
Philanthropy: https://people.com/tv/kardashian-jenner-net-worth/#kim-kardashian-west-350m, http://www.vh1.com/news/335329/kim-kardashian-charity-cyntoia-brown/
Marriage: https://www.lifeandstylemag.com/posts/kim-kardashian-first-husband-damon-thomas-160715
Business: https://www.businessoffashion.com/articles/people/kim-kardashian-means-business
Perfumes: https://www.fragrantica.com/designers/Kim-Kardashian.html
Book: http://time.com/3849456/kim-kardashians-selfish/
Robbery: https://www.usatoday.com/story/life/people/2016/10/03/kim-kardashian-paris-trauma-what-we-know-kanye-west/91466398/